Thank you District 2!

I am committed to ensuring the issues and concerns of District 2 are heard and addressed. No matter how tough the decisions, they will be made in the best interest of our residents. It's not just about you or me, but about all of us who make up this great city!

Sincerely,

Angela Whitfield Calloway, JD
Detroit City Councilmember, District 2
Detroit District 2 Map courtesy of Detroit Free Press
June is African American Music Appreciation Month! Created by President Jimmy Carter in 1979, this month celebrates the African American musical influences that comprise an essential part of our nation's treasured cultural heritage.
This month we highlight Hazel Scott, Trinidad-born American jazz and classical pianist, and singer who was a musical prodigy in the mid-20th century. Though Scott was a famous artist who trained at The Juilliard School, she was also known for her activism. Scott used her platform to dismantle racial barriers in the recording and film industries. Scott was the first Black American to host her network TV show.
OR enter the Meeting ID into your Zoom app:
Meeting ID: 872 4570 4264
Council Member Calloway has recently opposed a Land Sale in the Dexter-Fenkell neighborhood. The land sale would be for freight storage. Council Member Calloway believes that the land should be better utilized as it is adjacent to the proposed Joe Louis Greenway. The Council Member has urged the Council and Administration to rethink solutions as it relates to zoning especially in once heavily industrial areas.

Council Member Calloway has urged greater responsibility and accountability for affordable housing. As Detroit's housing insecure population continues to rise, the city has not met the demand and need for expanding genuinely affordable housing and programs that find permanent housing.

Congestion is a huge issue in the city of Detroit, especially during the summer months. Council Member Calloway is exploring solutions to the increased freight traffic that diminish roads across the city, including viable means to expand Weight Traffic Enforcement that will keep freight off all residential streets.

Council Member Calloway continues to urge the Administration to initiate a Disparity Study that hopes to inform the Council and the public about the utilization of Minority Business Enterprises, Small Business Enterprises, and Women-Owned Business Enterprises in the city-funded procurement pipeline for goods and services. Expanding the vendor base to include the fair participation of disadvantaged business enterprises will create a truly competitive contracting and procurement process.
Council Member Calloway Successfully Kicks Off Youth & Civic Engagement Task Force
Council Member Calloway successfully kicks off the Youth & Civic Engagement Task Force by hosting a Voter Registration event at two high schools in District 2. On May 19th and 20th, the Council Member and #TeamCalloway assist over 100 high school students to register to vote. The Council Member's goal is to register every 17.5 and 18-year-old in District 2 to prepare them to vote in the upcoming August election. To volunteer with the Youth & Civic Engagement Task Force send an email to CouncilmemberCalloway@detroitmi.gov.
District 2 is home to 104,586 residents spread across approximately 17 square miles on the city's northwest. The district, represented by Council Member Angela Whitfield-Calloway, is majority Black.
The median household income is $33,576, according to Data Driven Detroit, and 68% of the district earns less than $50,000 per year. For comparison, the average household income in Michigan is $54,938. Three in 10 residents in the district live below the poverty line.
The district spans east from Southfield Road to John R. Eight Mile Road serves as the district's northern border, while southern borders include West Davison, West McNichols, Fenkell, and Lyndon. More than 20 neighborhoods and 37 census tracts are contained within District 2.
UPCOMING GRAND OPENINGS IN DISTRICT 2:
Petty Cash Restaurant

Mac Art Galleries

What's Cracking' Restaurant

Lilly's and Elise Tea House

Welcome Home Yoga and Wellness
Get enrollment help, and enjoy fun activities, prizes, giveaways, and more during this year's Family Fun Day! Stop by the Center for Children on Thurs., June 9, from 10 AM-2 PM.
In Michigan, you can vote before Election Day using an absentee ballot. Request your ballot today for the August 2 Primary. Visit MI.gov/vote to apply online or to download and print an application.
The funds available under the newly created Neighborhood Beautification Program (NBP) can be used to fuel creative ideas, spark neighborhood revitalization, or strengthen the connections between neighborhood-based groups. The City of Detroit will provide resources to allow the eligible organizations and residents to become actively engaged in the health and well-being of their community and to encourage residents to get involved in making their neighborhood better. The initial funding for the program will be $2.25 million, which includes $1.25 million in American Rescue Plan Act (ARPA) funding and $1 million in Neighborhood Improvement Fund funding. Grants will range from $500 to $15,000, and up to 50 projects a year will receive funding. Under the program, funds will support the repurposing and beautification of property owned by neighborhood associations, block clubs, faith-based organizations (such as churches), or non-profit organizations. For those entities that have a desire to beautify their community but do not own land, the program will assist the organizations with purchasing or leasing vacant lots owned by the Detroit Land Bank Authority located near the organization to carry out a public activity and purpose in their neighborhood.
Detroit Sidewalk Damage Reporter
Property Owners are responsible for maintaining and repairing damaged sidewalk and driveways in front of or on the side of their property. If the sidewalk is damaged by roots from a tree between the sidewalk and the road, your property may be eligible for repairs by the Department of Public Works (DPW). If the sidewalk is damaged during work by a utility company, contact the utility company for assistance with repairs.
DTE – 313-270-9240
DWSD – 313-267-7401 or 313-267-1232
Instructions for Reporting Damaged Sidewalk
Enter the closest address or cross streets (ex. Woodward and Congress) into the issue in the address box("find address or place") at the top of the screen, then hit "Enter". If you don't have an available address (i.e. school, vacant lot etc.) navigate the map to the closest property square.
Zoom in and select the property where the damaged sidewalk is located. It is important that you select the correct property or the inspector may inspect the wrong location.
Confirm that you chose the correct address, then select "Report a sidewalk issue at this location". This will prompt a reporting survey that will ask you a few questions. Please provide an image if possible. If you are reporting more than one location on a block, you can enter each location separately or you can list the additional addresses in the Remarks section at the end of the survey. Please be brief, there is limited space in this section.
What Happens Next?
If you are reporting damaged sidewalks, the sidewalks will be inspected within 60 days. If you are reporting damages to your property made by the sidewalk contractor, we will notify the contractor, and someone will get back to you within 2 weeks.
For more information on the City of Detroit's Sidewalk program click here.
2022 yard waste collection begins the week of April 4. Yard waste collection will be picked up on the same day as your bulk items. Yard waste will be collected a biweekly basis until December 23.
1. Residents can place grass clippings, leaves, and small twigs that are no more than two inches in diameter in biodegradable paper bags on their bi-weekly scheduled bulk collection day.
2. Branches and twigs that are up to four feet in length and no more than four inches in diameter should be bundled and tied securely and placed at the curb line.
3. Individual bundles should not weigh more than 60 pounds.
4. When placing bagged yard waste at the curb, it should be at least six feet from the city garbage container.
5. The City's contractors will not collect yard waste in plastic bags. Failure to place yard waste in paper bags can result in a fine of $200; similarly placing your garbage container at the curbside too early or keeping it at the curbside after the day of pickup can result in a fine of $300.
For text message reminders of bulk and garbage dates, text your street address to sign up for weekly trash & recycling reminders to 313-800-7905.
The nonprofit United Community Housing Coalition is expanding its team and looking to fill several positions to continue its work to improve housing conditions for low-income Detroiters. UCHC is looking to hire attorneys, accountants, legal assistants, and more. We believe that having a place to live is a basic human right, and we're passionate about preserving that right in our communities. Located in Detroit's Cass Park, UCHC has been helping low-income Detroiters stay in their homes since 1973.
CALLING ALL DETROIT K-12 STUDENTS!
Detroit's Civil Rights, Inclusion & Opportunity department and the Juneteenth Detroit Freedom Fest Kid's Zone are sponsoring a Juneteenth Poetry Contest! For more information, visit detroitmi.gov/events/juneteenth-poetry-contest-k-12-students
Help drive the city! DDOT is looking for dedicated employees who can provide excellent customer service while being the Motor that moves the City. We offer a competitive salary, health and dental plans, a pension package, and more.
Visit our website for more info: http://ow.ly/4Uay50J0kg7
Celebrate and participate in, "illuminating" Detroit's unrivaled creative class at Light Up Livernois on Saturday, July 2, from 12 PM-10 PM on Livernois between Six and Eight Mile Roads. The event will showcase notable designers, architects, fashion talent, visual artists, and more.
16th Annual ARISE Detroit! Neighborhoods Day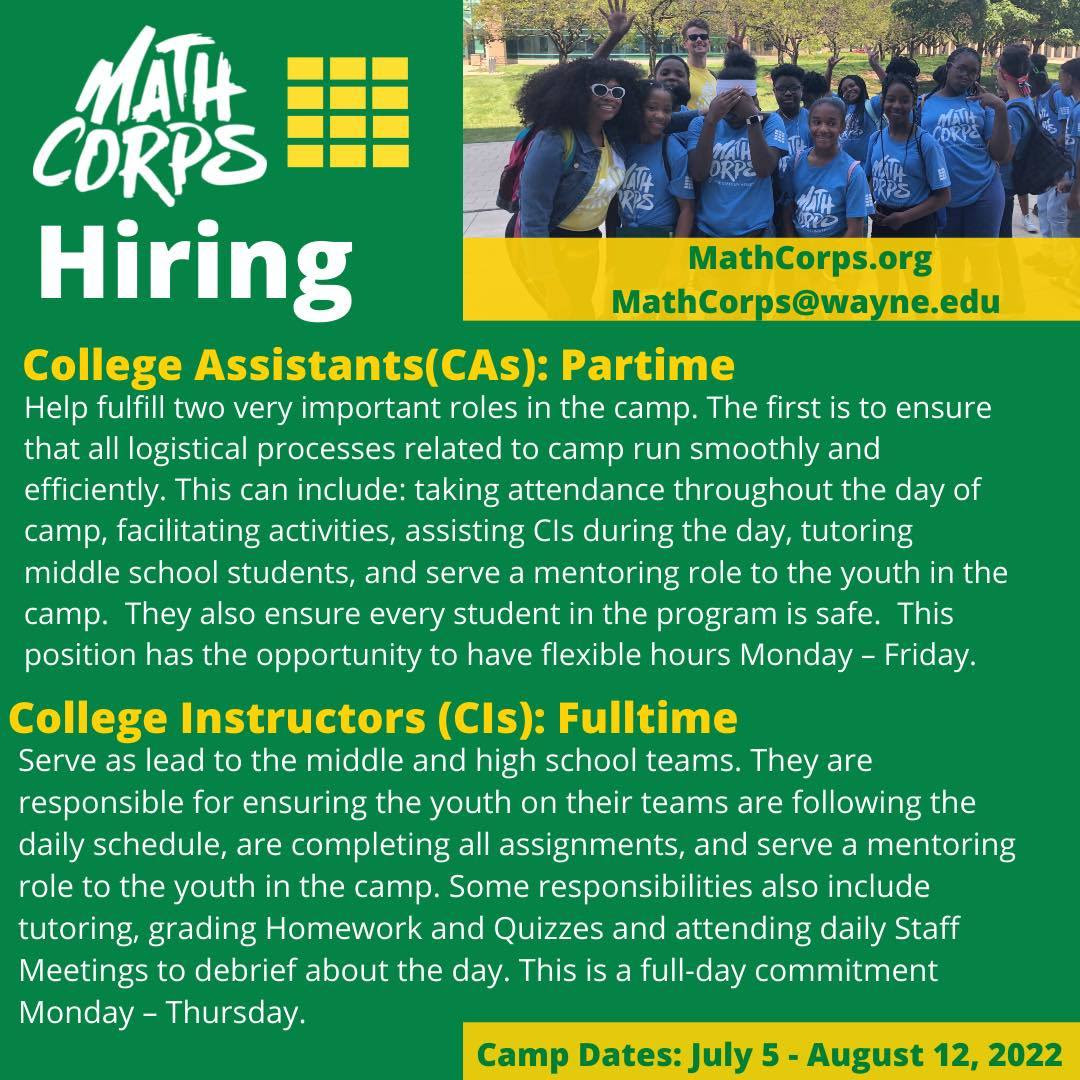 HUDA, A Free Health Clinic In Detroit

We provide FREE Primary Care, Dental Care, Mental Health Services, Vision Care, and Specialty Care for those who are uninsured and underinsured.

Click the link below or copy & paste into your web browser:
Lead Service Line Replacement Program
The Detroit Water and Sewerage Department (DWSD) estimates there are more than 80,000 lead service lines delivering water to homes in Detroit. In the city of Detroit, lead service lines are most likely to be found in single family homes built before 1945.
The water leaving the treatment plants that serve the city of Detroit does not contain lead, but lead can be released into drinking water from corrosion in lead service lines and household plumbing that contains lead. The water provided to DWSD customers contains a corrosion inhibitor to reduce corrosion of lead and other pipe materials into drinking water. If present, elevated levels of lead can cause serious health and developmental problems, especially for pregnant women and young children. Since 2018, DWSD has been working to verify lead service lines and replace them as part of the Asset Management Program.
© 2022 Councilmember Angela Whitfield Calloway, JD. Detroit City Council. All rights reserved.