Detroiters Urged to Complete 2020 Census
Mayor Mike Duggan and Icewear Vezzo urged Detroit residents to complete the 2020 Census during the daily COVID-19 briefing April 29. Detroit rapper Icewear Vezzo is an advocate for Census participation and is featured on Census billboards.
Detroit now ranks 13 out of 17 major U.S. cities based on return rates.
The Mayor emphasized that too much is at stake for residents to ignore the Census and then pointed out:
The federal government allocates $675 billion in 132 programs based on the Census count
Funding for Medicaid, school lunches, special education funding, police and fire is based on the Census count
The undercount in 2010 cost Detroit at least $300 million during the last decade
For more information and to complete the Census online, go to my2020census.gov.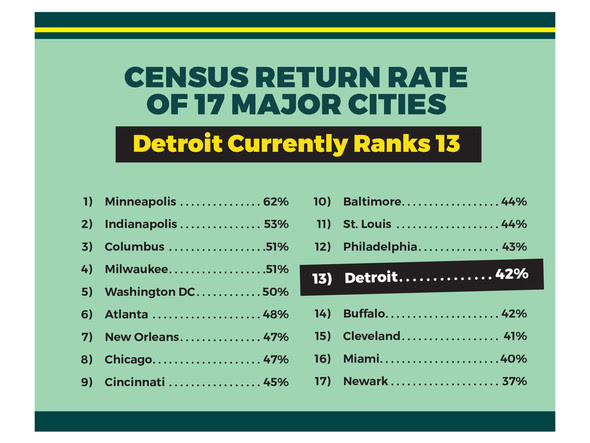 City Contractors to Proceed with Projects, Agree to Accept COVID-19 Workplace Guidelines
Mayor Duggan, joined by Kerlin Blaise (far left), discusses the start of projects and agreement by contractors to adopt health and safety standards. Blaise is the owner of Blaze Contracting, that has a $8.2-million contract with the City. Other speakers at the Mayor's daily briefing April 29 included rapper Icewear Vezzo and Denise Fair, Chief Public Health Officer.
Contractors to Begin Work Within Two Weeks
Mayor Mike Duggan announced that 16 contractors now have the green light to proceed with projects awarded by the City of Detroit prior to the COVID-19 pandemic. The approval was based on the companies agreeing to follow health and safety standards in place for City of Detroit employees returning to work.
Each company has agreed to create a COVID-19 safe workplace policy appropriate for its worksite and occupation with, at minimum, the following five elements:
Initial testing of each worker for COVID-19
Daily worker temperature check, health screening, and monitoring
Workplace distancing and hygiene protocols
Mandatory use of masks and other necessary personal protective equipment
Thorough and frequent cleaning of worksites and vehicles
The projects focus on road repairs and construction, sewer work, landscaping and construction totaling $110 million. Work is expected to begin in the next two weeks.
To review the contractor guidelines, click here.
Testing Shifts to Residents at Long-Term Care Facilities
The Detroit Health Department, with support from the CDC and Henry Ford, has started testing residents at long-term care facilities, focusing on the 37 locations with the highest number of reported cases.
The tests will be processed at the State Fairgrounds with results provided in two days. The staff of these locations also will be offered infection prevention education.
Health Department Focus on Testing of Nursing Home Staff
In addition, Denise Fair, the City's Chief Public Health Officer, said that staff members at 26 nursing homes are required to be tested by May 11, with 15 facilities already signed up. Testing of nursing home residents was completed last week.
Appointments Still Needed for Testing at State Fairgrounds, City Offers Detroiters Access to Doctors and $2 Rides
Detroiters with COVID-19 symptoms can get tested for free even if they don't have a primary care physician, health insurance, or a car.
Detroit physician offices are now accepting new patients for Detroiters without insurance or a primary care physician. Once a person has a doctor's prescription and appointment time, they can get a ride for $2 to the State Fairgrounds in a safe, sanitary vehicle through IntelliRide.
The free testing will continue at the Fairgrounds through early May, with more than 700 tests being administered daily.
For more information on how to get an appointment for COVID-19 testing at the State Fairgrounds, go to detroitmi.gov/coronavirus.
Violators of the Governor's executive orders to stay home, practice physical distancing and avoid public gatherings
could be fined up to $1000.
Health Department Hotline
Keeping Detroit residents healthy and safe is the number one priority of the Detroit Health Department. Call (313) 876-4000 for guidance 24/7 on next steps if you are:
A healthcare provider with a possible COVID-19 positive patient
An individual who suspects they have COVID-19
Meals Available for Detroit Families and Seniors
For information on locations, go to detroitmi.gov/food.
Need Your Water Turned On?
During the COVID-19 outbreak, Detroiters living in households with no water service can sign up for the Water Restart Plan to restore service and keep their water flowing for only $25 per month. Thousands are already participating: sign up here!
Income Tax Deadline now July 15
The City of Detroit has pushed back the deadline for residents and non residents who must file City income taxes to July 15.