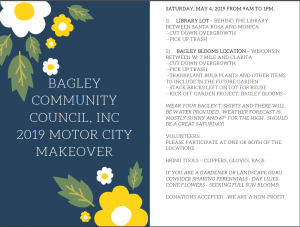 Join us on Saturday for Motor City Makeover between 9am and 1pm  – helping to make our community beautiful one lot at a time!
Block clubs are encouraged to clean their blocks and share pictures for posting to the Bagley website
Contact bagleycommunitycouncil@yahoo.com for more information
Details:
SATURDAY, MAY 4, 2019 FROM 9AM TO 1PM.
1) LIBRARY LOT – BEHIND THE LIBRARY BETWEEN SANTA ROSA AND MONICA
–CUT DOWN OVERGROWTH
–PICK UP TRASH
2) BAGLEY BLOOMS LOCATION – WISCONSIN BETWEEN W. 7 MILE AND CLARITA
–CUT DOWN OVERGROWTH
–PICK UP TRASH
–TRANSPLANT BULB PLANTS AND OTHER ITEMS TO INCLUDE IN THE FUTURE GARDEN
–STACK BRICKS LEFT ON LOT FOR REUSE
-KICK OFF GARDEN PROJECT, BAGLEY BLOOMS
WEAR YOUR BAGLEY T-SHIRTS AND THERE WILL BE WATER PROVIDED. WEATHER FORECAST IS MOSTLY SUNNY AND 67° FOR THE HIGH. SHOULD BE A GREAT SATURDAY!
VOLUNTEERS: PLEASE PARTICIPATE AT ONE OR BOTH OF THE LOCATIONS | BRING TOOLS – CLIPPERS, GLOVES, BAGS
IF YOU ARE A GARDENER OR LANDSCAPE GURU CONSIDER SHARING PERENNIALS – DAY LILIES, CONE FLOWERS – SEEKING FULL SUN BLOOMS!DONATIONS ACCEPTED. WE ARE A NON-PROFIT.