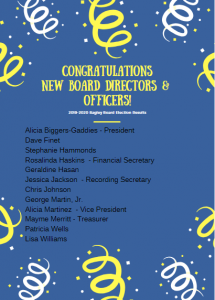 2019 – 2020 Board of Directors elected
Thank you to all the members who cast their vote during the election period.
Bagley Community Council, Inc members were informed first by mail the results of the elections. For our residents and the larger community, we are providing the list of Board Directors for this term:

The new Directors met in January and elected officers per the By-Laws (available from our website)

Alicia Biggers-Gaddies, President

Alicia Martinez, Vice-President

Roslinda Haskins, Financial Secretary

Jessica Jackson, Recording Secretary

Mayme Merritt, Treasurer

Visit the website today @ http://bagleycommunity.org to keep up-to-date on your community.
March 16, 2019 is Bagley's first meeting of 2019
Join us as we gather to learn information to share with our block clubs and neighbors.
We will install the new Board Directors for the 2019-2020 term.
Advance Disposal [out trash, recycle, yard and bulk waste collection service provider] and the City's Assessor's Office.will be speaking to help sort out any questions and provide updates.
We will have updates on the development activity along Livernois and McNichols.
Information regarding the PGA tournament to be held at the Detroit Golf Club will be shared. This will impact traffic and parking.
We will also share our 2019 calendar and committees.  It;s a new year and a new start.  We hope you will join us in continuing to make Bagley a great place to live!
Meeting details
Saturday, March 16, 2019
10am – 12pm
12th Police Station – 1441 W. 7-Mile Rd.
Membership forms available; member yard signs available
Let us know if you have an active block club; we can share information direclty